20 Sep 2016
S.M.T. Machines Pvt. Ltd's is the manufacturer and supplier of Mill Stands. The company is an ISO 9001-2000 certified company and a Government of India recognized export house.
The mill stands are for the rolling of wire rods, TMT, medium section, light section & heavy section steel of ferrous and non-ferrous metal.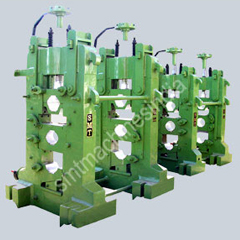 The size is 6″- 30″ that from 150 mm to 750 mm PCD mill and the housing material is steel casting, cast iron, or steel fabricated. It is very compact and has an easy design to make sure that there is a quick roll change, easy to maintain and to avoid chief down time.
It has adjustment screws and L-Keys and the wear & tear plate on the inside of stands are for long life. Even have C.I. foundation rails along with foundation bolts with nuts & spacers.
There are steel fabricated i.e. rest & side bars are of Swedish type and has tee bolts, tie rods with nuts & spacers. The fibre bearings in it are installed after doing the calculation.
About Author
Rebecca