13 Dec 2017
Single Axes vs Double Axes – Tail it To Your Needs!
Whether you're a pedestrian on the floor or a worker up in the rafters, it is nice to know you have the reassurance of some safety measures around you. It is the responsibility of the business to ensure the workforce can go to work and do their duties in a safe and sound environment.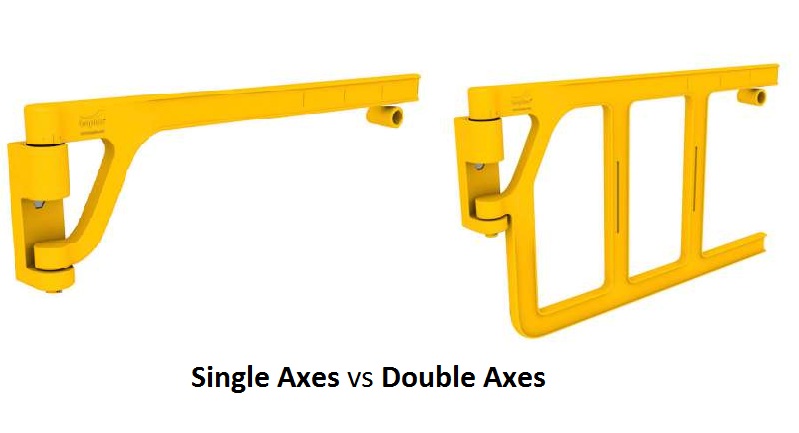 Regardless of what position you take within the warehouse, an industrial safety gate is always handy to have. There's a range of gates you can inherit and each gate can offer a level of safety. Read on to see the difference between two popular gates – single and double axes.
Floor Level Safety
The single axes gate is specifically designed for safety on the ground. Due to the design, it is not appropriate for protection whilst in cages or platforms, although another type of gate can provide that level of safety. The gate's ability to self-close is extremely useful and therefore reduces the risk of someone leaving the gate ajar, which can lead to catastrophic circumstances. This mechanism improves the level of safety all round, providing peace of mind.
Another advantage of the gate is when it's installed, the option of having it open to the left or the right is available, meaning no warehouse is left out when it comes to safety!
Double the Protection
If there is the need for extra protection for workers at height, then the double axes gate is an option available. The function pretty much mirrors the name – the gate doubles up on itself to provide a level of safety that might not be present before installation.
The durable material of the gate ensures consistent protection and it offers the same self-closing mechanism as the single axes gate; which again removes the paranoia behind whether the gate is open or shut.
Also similar to the single axes gate, the option to have the gate open to the left or the right is available. Both gates also boast a range of lengths, starting from 550mm to 1200mm, allowing any size business to protect their workforce.
Where to Find Them
If you're interested in upgrading your safety level, BoPlan are more than happy to accommodate your requests. Their expert team of advisors can help you with any questions you may have. You can get in touch with them on 01902 824 280.