22 Aug 2016
Wear Resistant Steel Plates
Conquest Steel And Alloys's is a major exporter, manufacturer and supplier of Wear Resistant Steel Plates.
The Wear Resitant Steel Plates are applicable in sections where there is more probability of abrasion or wear of the steel plate. Steel which has a high rating of Brinel Hardness (HB) are relevant where wear or abrasion resistance is imperative.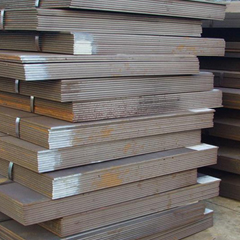 The advantage of using this plate is that plant machinery or constructions working life can be increased greatly. Because of it, there is a progress, dependence, resistibility and safety of the equipments and structures. There is a decline in the maintenance charges when it comes to matters related to the wear and tear of the plant.
The 400HB is thrice harder compared to the mild steel of 120HB. These abrasion and mechanical wear-resistant steel plates are used in the crushers, hoppers, grinders, mixers, shovels, diggers, bulldozers, dredging machines, etc.
Whereas the Wear resistance plates for crushers, mining machinery, extractors, spiral chutes, unloaders, conveyors, etc.