03 Aug 2016
What are ERW Pipes and Tubes in Steel Industry?
D.P. Jindal Group's is the manufacturer of ERW pipes.
The ERW pipes (Electrical Resistance Welding) are made by cold forming of steel coil into a circle cylindrical shape. In the starting stage, to heat the edges, low frequency A.C. is used.  With changing times, high frequency A.C. current is used to make a best quality weld.
These tubes and pipes are present in numerous qualities, finishes, diameter and wall thickness. It is used in fencing, line pipes, for engineering purpose, etc.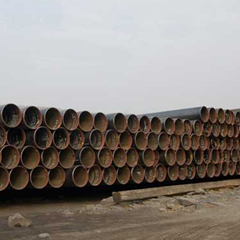 Some of its uses are water pipelines, gas pipe lines, LPG and other non-toxic gas lines.
The water pipelines are used in agriculture and irrigation. It is used as water mains, industrial water pipe lines, casing pipes, etc.
The making of pipes range from 15mm NB to 350mm NB and 2 mm to 9.5 mm in wall thickness. The ERW pipes and tubes follow the specifications of IS, BS, API, ASTM, DIN, IBR which fit to the various international standards.