26 Aug 2016
Electric Arc Furnace | Steel Industry
Doshi Associates's is the leading manufacturer and supplier of Electric Arc Furnace. The company even manufactures spares that can be retrofitted in the existing arc furnaces.
The Electric Arc Furnaces (EAF) are used in melting & refining processes for steel production. The various ranges for EAF are rubber seal kits, bearing blocks, hard chrome plated pistons, hydraulic cylinders and pistons, power cables, rubber hoses, electrode holders, pressing jaws, sindyano insulations, etc.
It is a compact design which has minimum space requirements. It has hydraulic electrode movement and control system.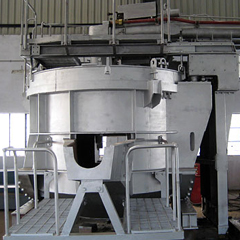 It is very a user friendly furnace along with easy operation and maintenance. It has low refractory wear because of the small pitch circle diameter.
The EAF can be supplied for minimum of 3 MT. The furnace operations and control are automated with the help of PLC and the computer based Human Interface.
It has a tubular roof design and designed for metal movement by transfer trolley or with gantry swiveling arrangements.